Aleksandr Gorin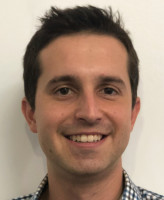 TITLE: Infectious diseases fellow physician/Post-doctoral research fellow
EMAIL: agorin@
null

mednet.ucla.edu
EDUCATION:
M.D., David Geffen School of Medicine at UCLA (2019)
Ph.D., Microbiology, Immunology, and Molecular Genetics, UCLA (2017)
B.S., Molecular Biology, UC San Diego (2011)
Biography
As an aspiring physician-scientist I am primarily interested in understanding how prior insults/exposures to the immune system influence the subsequent ability of the immune system to respond to new infections.
Awards
2022 nominee UCLA Internal Medicine Fellow Teaching award
2019 UCLA DGSOM Valentine Award for Excellence in Internal Medicine
2017 Conference on Retroviruses and Opportunistic Infections – New Investigator Scholar
2016 HIV Research for Prevention Research Scholar
2011 UCSD Eleanor Roosevelt College Provost's Scholar 2011
2010 UCSD Chancellor's Research Scholarship
2010 UCSD Tracy Parsons Scholarship for LGBT students in Science and Mathematics
Publications
Park JJ, Stafylis C, Pearce DD, Taylor J, Little SJ, Kojima N, Gorin AM, and Klausner JD. Interest, concerns, and attitudes among men who have sex with men and healthcare providers toward prophylactic use of doxycycline against Chlamydia trachomatis infections and syphilis. Sexually transmitted diseases. 2021.
Gorin AM, Du Y, Liu F, Zhang T, Ng HL, Hofmann, C, Cumberland WG, Sun R, and Yang OO. HIV-1 epitopes presented by MHC class I types associated with superior immune containment of viremia have highly constrained fitness landscapes. PLoS Pathogens. 2017.
Du Y, Zhang T, Dai L, Zheng X, Gorin AM, Oishi J, Wu T, Yoshizawa JM, Li X, Yang OO, Martinez-Masa O, Detels R, and Sun R. Effect of mutations on replicative fitness and MHC-I binding affinity are two of the determinants underlying CTL escape of HIV-1 Gag epitopes. mBio. 2017.
Homann S, Hofmann C, Gorin AM, Huynh D, Yang OO, and Kelesidis T. A Novel Rapid and Reproducible Flow Cytometric Method for Optimization of Transfection Efficiency in Cells. PLoS One. 2017.