Jennifer Chia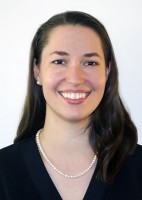 TITLE: Resident Physician
EMAIL: JChia@
null

mednet.ucla.edu
EDUCATION:
Residency in Anatomic Pathology, UCLA (2018 – 2021)
M.D. Weill Cornell Medicine of Cornell University, Cornell/Rockefeller/Sloan-Kettering Tri-Institutional MD-PhD Program (2018)
Ph.D., Weill Cornell Graduate School of Cornell University, Cornell/Rockefeller/Sloan-Kettering Tri-Institutional MD-PhD Program (2016)
B.A., University of Colorado (2007)
Biography
As a developing physician scientist and Hematopathologist-in-training, I am interested in understanding how inflammatory signaling in the bone marrow microenvironment may influence hematopoiesis and human bone marrow disorders.
Publications
Azar, S., Buen, F., Chia, J.J., Ma, Y., Caron, J. Dry, S. Bhuta, S. Abemayor, E. Spindle cell lipoma arising from the supraglottis: a case report and review of the literature. Head and Neck Pathology. [In press manuscript number HANP-D-20-00412R1; accepted for publication 11/19/2020.]
Chia J.J., Zhu T., Chyou S., Dasoveanu D.C., Carballo C., Tian S., Magro C.M., Rodeo S., Spiera R.F., Ruddle N.H., McGraw T.E., Browning J.L., Lafyatis R., Gordon J.K., Lu T.T. Dendritic cells maintain adipose-derived stromal cells in skin fibrosis. J Clin Invest. 2016 Nov 1;126(11):4331-4345. PMID: 27721238; PMCID: PMC5096920.
Dasoveanu D.C., Shipman W.D., Chia J.J., Chyou S., Lu T.T. Regulation of lymph node vascular-stromal compartment by dendritic cells. Trends in immunology. 2016; 37(11):764-777. PMID: 27638128; PMCID: PMC5492966.
Chia, J.J. & Lu, T.T. Update on macrophages and innate immunity in scleroderma. Curr Opin Rheumatol 27, 530-536 (2015). PMID: 26352734; PMCID: PMC4763869.
Hains, L.E., Loram, L.C., Taylor, F., Strand, K., Wieseler, J.L., Barrientos, R., Young, J.J., Frank, M.G., Sobesky, J., Martin, T.J., Eisenach, J.C., Maier, S.F., Johnson, J.D., Fleshner, M.R., & Watkins, L.R. 2011. Prior laparotomy or corticosterone potentiates lipopolysaccharide-induced fever and sickness behaviors. J Neuroimmunol. 2011 Oct 28;239(1-2):53-60. PMID: 21907418; PMCID: PMC3205218.
Chia, D.J., Young, J.J., Mertens, A.R., Rotwein, P.R. 2010. Distinct alterations in chromatin organization of the two IGF-I promoters precede growth hormone-induced activation of IGF-I gene transcription. Mol Endocrinol. 2010 Apr;24(4):779-89. PMID: 20160126; PMCID: PMC2852351.
Young, J.J., Mehdi, A., Stohl, L., Levin, L.R., Buck, J., Wagner, J.,Stessin, A.M. 2008. 'Soluble' adenylyl cyclase-generated cyclic AMP promotes fast migration in PC12 cells. J Neurosci Res. 2008 Jan;86(1):118-24. PMID: 17680672; PMCID: PMC2587045.
Awards & Fellowships:
2019: Translational Research Fund project support, Department of Pathology, UCLA
2018: Herman L. Jacobius Prize in Pathology, Weill Cornell Medicine of Cornell University
2015: Outstanding Poster Award, Weill Cornell Graduate School of Cornell University
2014-2015: T32 funding award to the Immunology and Microbial Pathogenesis Program of Weill Cornell Graduate School of Cornell University
2009 – 2011: T32 to the Weill Cornell/Rockefeller/Sloan-Kettering Tri-Institutional MD-PhD Program
2006 – 2007: Undergraduate Research Assistantship funding award, University of Colorado
2006: Leibowitz Fellowship Undergraduate Prize, Weill Cornell/Rockefeller/Sloan-Kettering Tri-Institutional MD-PhD Program
2004 – 2007: Puksta Scholarship, University of Colorado
2004 – 2007: Norlin Scholarship, University of Colorado